Dr. Hilary Apfelstadt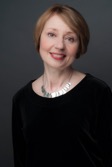 is Director of Choral Activities and Professor of Choral Conducting at the University of Toronto where she was named the inaugural Faculty Teaching Excellence Award winner in 2013. She holds the Elmer Iseler Chair in Conducting. Raised in Nova Scotia, she earned degrees from the University of Toronto, the University of Illinois, and the University of Wisconsin-Madison.
She has conducted choirs at divisional and national conferences of the American Choral Directors Association (ACDA), and conducted the U of Toronto MacMillan Singers at
Podium
2012, the national conference of Choral Canada. She has led choral festivals in Europe, and at Carnegie Hall and Lincoln Centre in New York. In 2009, she conducted the Mormon Tabernacle Choir in a live broadcast of "Music and the Spoken Word."
She has led all-state choruses in more than 30 states and directed the 2011 Ontario Youth Choir. She conducted the 2014 National Youth Choir of Canada in an all-Canadian program in a tour of the Maritimes, culminating with a performance at
Podium
in Halifax, N.S. For several years, Dr. Apfelstadt was a member of the Robert Shaw Festival Singers and recorded two Grammy award winning CD's with them in France.
Jake Runestad

is an award-winning and frequently-performed composer of "highly imaginative" (Baltimore Sun) and "stirring and uplifting" (Miami Herald) musical works. Having collaborated with leading ensembles and organizations around the world, Jake has a versatile and prolific career creating works for orchestra, wind band, chorus, chamber ensembles, and opera. His visceral music and charismatic personality have fostered a busy schedule of commissions, residencies, workshops, and speaking engagements, enabling him to be one of the youngest full-time composers in the world.