The OCDA News is the cornerstone publication of the Ohio Choral Directors Association. It is published three times a year with articles pertaining to all areas and interests in choral music from members throughout the state of Ohio.
NEW
The OCDA News Archive
is now available to view and download issues of the
OCDA News
from the past several decades.
Current and recent editions of the OCDA News are available here to view or download in PDF format.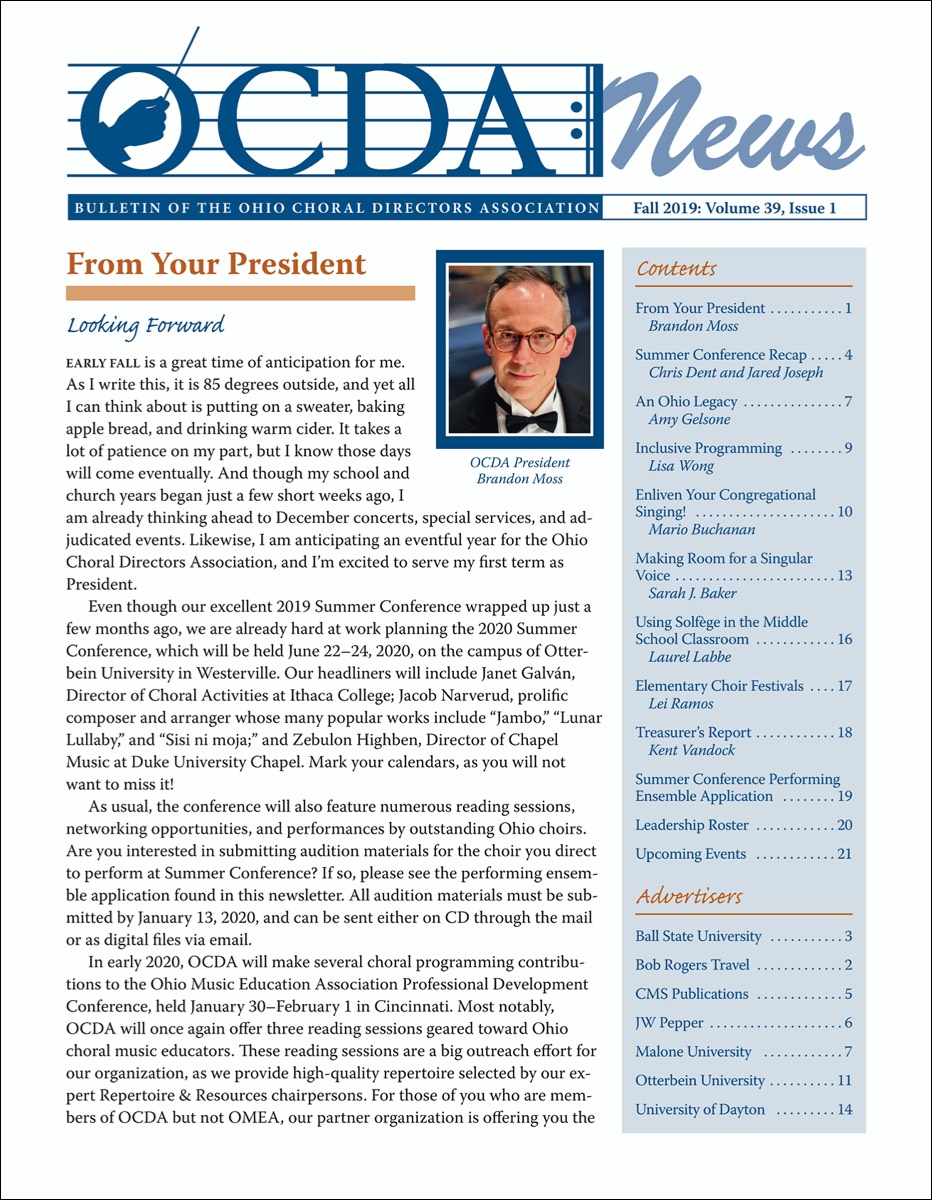 Spring 2020; Volume 39, Issue 3
In this issue:

Brandon Moss shares details about our upcoming virtual conference;

Franklin Miller offers insights and tips for remote learning;

Mario Buchanan spotlights the music of Gerald Near;

Jeff Clark presents the outcome of a landmark court case in "fair use" of show choir music;

Laura Kitchel discusses student-centered learning approaches for education at a distance.
| | Issue | Type | Permissions | Date | Size | | |
| --- | --- | --- | --- | --- | --- | --- | --- |
| pdf | OCDA News (229 4) Summer 2010 | pdf | 0644 | 06-Sep-2020 08:42 | 654 KB | Preview | Download |
| pdf | OCDA News (230 1) Fall 2010 | pdf | 0644 | 06-Sep-2020 08:29 | 4 MB | Preview | Download |
| pdf | OCDA News (230 2) Winter 2011 | pdf | 0644 | 06-Sep-2020 08:23 | 2 MB | Preview | Download |
| pdf | OCDA News (230 3) Spring 2011 | pdf | 0644 | 06-Sep-2020 08:39 | 2 MB | Preview | Download |
| pdf | OCDA News (231 1) Fall 2011 | pdf | 0644 | 06-Sep-2020 08:22 | 2 MB | Preview | Download |
| pdf | OCDA News (231 2) Winter 2012 | pdf | 0644 | 06-Sep-2020 08:39 | 3 MB | Preview | Download |
| pdf | OCDA News (231 3) Spring 2012 | pdf | 0644 | 06-Sep-2020 08:28 | 4 MB | Preview | Download |
| pdf | OCDA News (232 1) Fall 2012 | pdf | 0644 | 06-Sep-2020 08:40 | 3 MB | Preview | Download |
| pdf | OCDA News (232 2) Winter 2013 | pdf | 0644 | 06-Sep-2020 08:28 | 4 MB | Preview | Download |
| pdf | OCDA News (232 3) Spring 2013 | pdf | 0644 | 06-Sep-2020 08:42 | 5 MB | Preview | Download |
| pdf | OCDA News (233 1) Fall 2013 | pdf | 0644 | 06-Sep-2020 08:33 | 3 MB | Preview | Download |
| pdf | OCDA News (233 2) Winter 2014 | pdf | 0644 | 06-Sep-2020 08:41 | 4 MB | Preview | Download |
| pdf | OCDA News (233 3) Spring 2014 | pdf | 0644 | 06-Sep-2020 08:29 | 4 MB | Preview | Download |
| pdf | OCDA News (234 1) Fall 2014 | pdf | 0644 | 06-Sep-2020 08:25 | 6 MB | Preview | Download |
| pdf | OCDA News (234 2) Winter 2015 | pdf | 0644 | 06-Sep-2020 08:30 | 7 MB | Preview | Download |
| pdf | OCDA News (234 3) Spring 2015 | pdf | 0644 | 06-Sep-2020 08:45 | 12 MB | Preview | Download |
| pdf | OCDA News (235 1) Fall 2015 | pdf | 0644 | 06-Sep-2020 08:43 | 7 MB | Preview | Download |
| pdf | OCDA News (235 2) Winter 2016 | pdf | 0644 | 06-Sep-2020 08:44 | 8 MB | Preview | Download |
| pdf | OCDA News (235 3) Spring 2016 | pdf | 0644 | 06-Sep-2020 08:35 | 11 MB | Preview | Download |
| pdf | OCDA News (236 1) Fall 2016 | pdf | 0644 | 06-Sep-2020 08:35 | 8 MB | Preview | Download |
| pdf | OCDA News (236 2) Winter 2017 | pdf | 0644 | 06-Sep-2020 08:33 | 8 MB | Preview | Download |
| pdf | OCDA News (236 3) Spring 2017 | pdf | 0644 | 06-Sep-2020 08:47 | 8 MB | Preview | Download |
| pdf | OCDA News (237 1) Fall 2017 | pdf | 0644 | 06-Sep-2020 08:28 | 11 MB | Preview | Download |
| pdf | OCDA News (237 2) Winter 2018 | pdf | 0644 | 06-Sep-2020 08:47 | 12 MB | Preview | Download |
| pdf | OCDA News (237 3) Spring 2018 | pdf | 0644 | 06-Sep-2020 08:37 | 8 MB | Preview | Download |
| pdf | OCDA News (238 1) Fall 2018 | pdf | 0644 | 06-Sep-2020 08:45 | 11 MB | Preview | Download |
| pdf | OCDA News (238 2) Winter 2019 | pdf | 0644 | 06-Sep-2020 08:37 | 14 MB | Preview | Download |
| pdf | OCDA News (238 3) Spring 2019 | pdf | 0644 | 06-Sep-2020 08:25 | 14 MB | Preview | Download |
| pdf | OCDA News (239 1) Fall 2019 | pdf | 0644 | 06-Sep-2020 08:39 | 12 MB | Preview | Download |
| pdf | OCDA News (239 2) Winter 2020 | pdf | 0644 | 06-Sep-2020 08:29 | 11 MB | Preview | Download |
| pdf | OCDA News (239 3) Spring 2020 | pdf | 0644 | 06-Sep-2020 08:43 | 9 MB | Preview | Download |
Number of files: 31
Combined size: 218 MB